Hunters, celebrate the spooky season in style as our Halloween-themed Questline goes live. Questlines are a new feature for Hunt, offered during different times of the year, that allow you to earn special and rare in-game items. When a Questline becomes available you must complete a series of specific in-game challenges, and you will be rewarded handsomely for each Quest completed with instances of items.

During the Halloween event, you'll be challenged to smash pumpkins that populate the Bayou, and you'll have to confront fan-favorite boss, The Butcher, adorned with a pumpkin head! You'll need to draw upon all your skills to dodge The Butcher's fireballs and his horrifying hook…
Our Halloween Questline is ONLY available from October 26th at 2pm UTC, and will end on November 9th at 3pm UTC. You must complete six Acts, each featuring different Quests, to finish the Questline. Great rewards are up for grabs, including "Mama Maye," a new Legendary Hunter, and a Skull Effigy Weapon Charm! And there are also four Legacy Legendaries up for grabs too. Get your scary squad together and smash through those Quests (and pumpkins) to unlock all the rewards on offer...
Introducing Legendary Hunter "Mama Maye"

"Legends say that if you go to the greenhouse outside of Lawson, you'll catch a glimpse of her: a haunted figure drifting around tending to the flowers and plants. But don't let her catch you, otherwise, you might end up as food for her flora."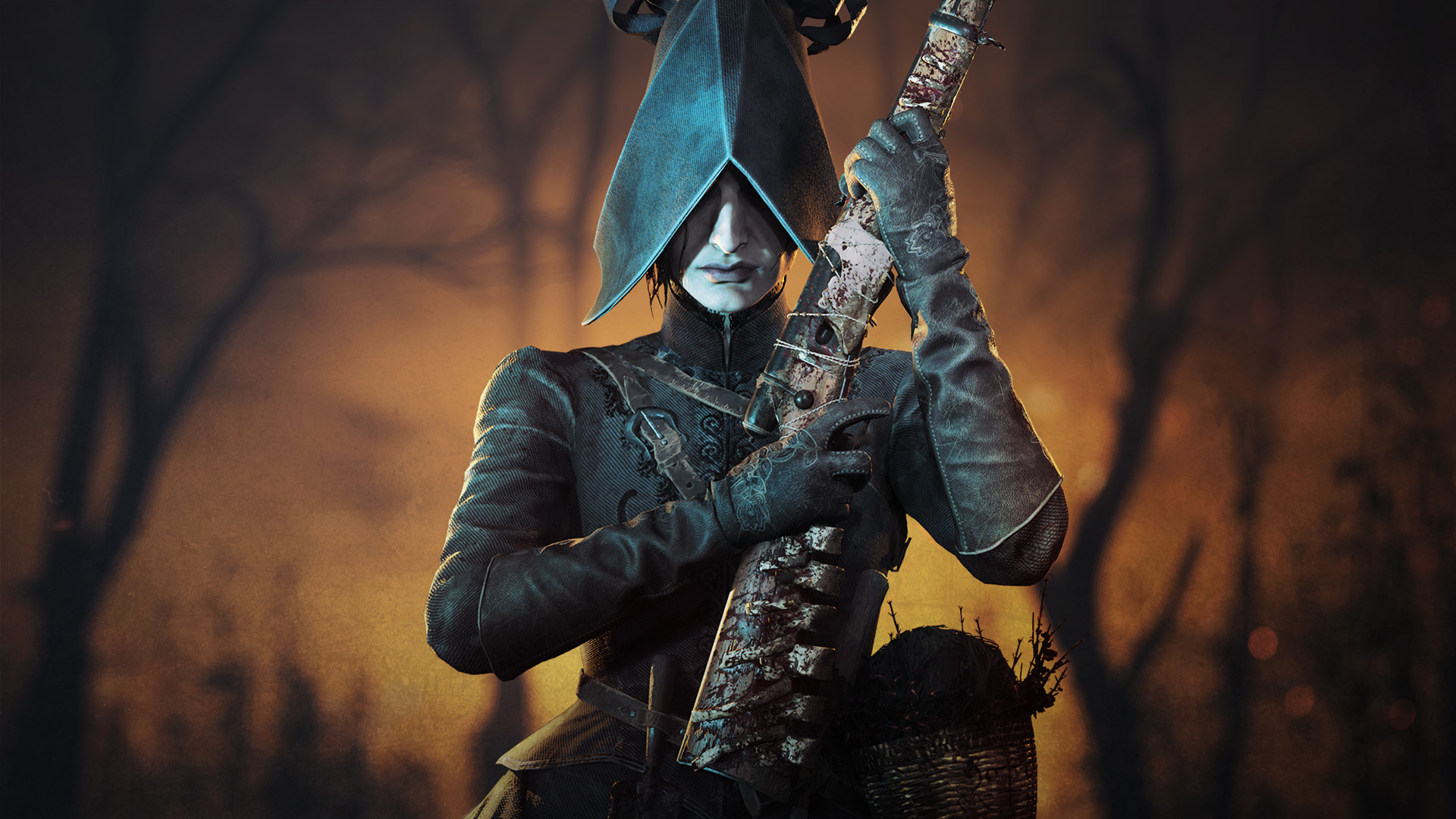 While she has already been deemed a legend and myth, Maye "Mama" Florent is very much real. After becoming a widow for the second time in 1890, she vowed to never marry again. Soon after, the 45-year-old was rumored to have many gentlemen callers coming to her home, but never the same one twice. It wasn't until she suddenly left home that people realized her terrible secret:  Those same gentlemen callers coming to her home were being killed. She would keep the heads as keepsakes and grind up the rest of the bodies to use as fertilizer in her garden.
In 1894 Mama moved to Louisiana, where she learned about the Hunt. She immediately did her best to learn gunplay and joined the fight when she realized there were no laws in the Bayou. And so came the warning: Don't get caught by Mama Maye if you don't want to end up as a flower in her Garden.
Check out list of Main Rewards for each Act in the Halloween Questline:
Act 1 – "Skeleton Key" Heavy Knife
Act 2 – "Scapula" Romero 77 Hatchet
Act 3 – "Bone Shard" Caldwell Pax Claw
Act 4 – "Backbone" Vetterli 71 Karabiner Bayonet
Act 5 – "Skull Effigy" Weapon Charm
Act 6 – "Mama Maye" Legendary Hunter
You'll also earn extra rewards, including Hunt Dollars and instances of consumables and weapons, as you complete different Quests within each Act. If you already have one or more of the Main Rewards unlocked, fear not, as you will then unlock a random Legendary item that you do not already possess. Mr. Chary is always looking to ensure Hunters go rewarded…
The in-game store has also been stocked with some seasonal favorites for the duration of the event. The Halloween-themed weapons, tools, and more available for a limited time only are:
"Scapula" Romero 77 Hatchet
"Backbone" Vetterli 71 Karabiner Bayonet
"Bone Shard" Caldwell Pax Claw
"Skeleton Key" Heavy Knife
"The Marwood" Caldwell Rival 78
"Closed Casket" Mosin-Nagant M1891 Obrez Mace
"The Executioner" Combat Axe
"The Headsman" Legendary Hunter
Dive into the event, get smashing those pumpkins, and see if you can unlock every reward on offer with our latest Halloween Questline.
See you in the Bayooooooooou!
- Your "Spooktacular" Hunt: Showdown Community Team
+++
Don't own Hunt yet? Get your copy for PC on Steam or from the Crytek Shop. For Xbox, head to the Microsoft Store, and for PS4, find Hunt on the PlayStation Store.