Hunters, today we want to go into detail about our recent range changes to long and medium ammo as well as other balancing changes to some of the custom ammo types. Find out what we have changed and why!
Range Increase
With Update 1.6 and the release of our brand new map, we created more opportunities to use long-range weapons thanks to the increased verticality you'll find throughout DeSalle. However, it can be really frustrating to land that extremely long-range headshot with your sniper rifle, only to find out that the shot doesn't take down your target because it is beyond the weapon's effective range.
So, we have made some changes, as follows:

• Medium ammo lifetime was increased to 350 meters (previously 300m)
• Long ammo lifetime was increased to 500 meters (previously 300m)
This range increase opens up even more gameplay variety, in particular for those that really enjoy sniping as well as giving long ammo rifles a solid performance boost at distance. It adds much more value to medium ammo snipers like the recently added Winfield 1876 Centennial Sniper too.

These changes also brought some pretty impressive increases to the Effective Range for other weapons. For example, the Sparks LRR now has a maximum effective range of 347m (previously 250m), and the Vetterli Karabiner 71 now sits at 203m (previously 167m).
It is important to note that these changes do not have much of an impact at close range and, for the most part, mean that the bullet will retain more of its original damage at longer distances now.
Custom Ammo
While working on these range changes, we took a hard look at some of the current custom ammo types to see if their performance matches our original design intent. With Update 1.6, we felt changes were needed, so we removed some of the penalties tied to certain ammo types, such as Incendiary and DumDum ammo, to name just two. You can check out more details in the 1.6 Update notes. Following that, we started looking into FMJ and Spitzer ammo. We realized that we wanted these ammo types to have a clearer and more defined combat role, especially given the changes we made to the default medium, and long ammo ranges mentioned previously.
FMJ (Full Metal Jacket)
Alongside its improved penetration power over regular ammo, we wanted to give FMJ a bit more range to make it more interesting for those highly skilled marksmen out there amongst you. This update saw an increase to the damage drop-off range, meaning that it will keep more damage over longer distances than before Update 1.6, and roughly a 10% increase to the Effective Range for lethal headshots in the case of FMJ medium ammo, for example.
As you can see from the graph below, the FMJ now keeps its base damage for up to 40m more compared to the regular ammo, which starts to decrease at around 20m. This is great for extending headshot range but comes at the cost of reduced projectile speed. The further out your target, the more you need to lead your shot.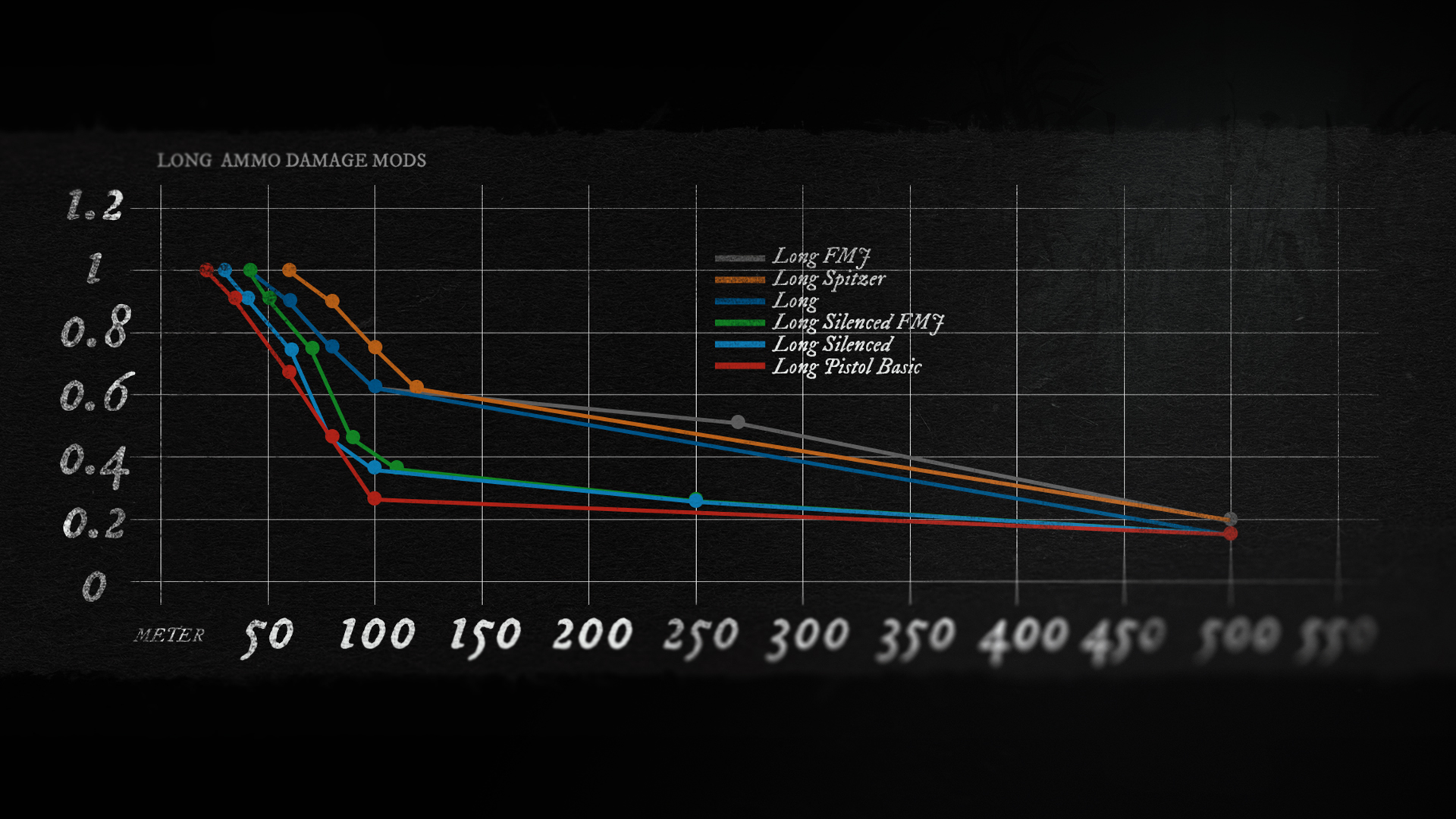 Spitzer

With Spitzer ammo, we had a very clear goal in mind – establish this as the go-to option for long-range sniping. It's only available for modern rifles that can make effective use of such a powerful cartridge without damaging itself. We felt that we were not delivering on this sufficiently yet, and Spitzer often felt like it would be less effective than regular ammo at range.
We decided to adjust the fall-off curve somewhat, resulting in an overall increase in Effective Range to allow successful headshots at even greater distances. For the Lebel rifle, Effective Range increased by 14m, while for the Mosin-Nagant, it increased by 16m. In the graph below, you can see a comparison with the Spitzer (grey line) and base long ammo (blue line).
While Spitzer rounds are close to how a modern rifle round would perform, in practice, that results in smaller wounds due to the higher projectile speed and stability in flight, compared to the early bullet designs represented by regular ammo. So, while less powerful overall, Spitzer ammo gets its time to shine at distance where it retains its power much better, shown in detail in the graph below of the drop-off rate after 100m.
Overall ranges for base ammo

In a previous blog, where we discussed the weapon systems, we provided some extra detail on the max ranges for the standard weapons. Below is an updated chart that reflects the current max ranges:
| | |
| --- | --- |
| Type | Max Range |
| Compact | 300 |
| Medium | 350 |
| Long | 500 |
| Shotgun | 40 |
| Nitro | 300 |
In the previous chart, we also included bullet velocity as a universal value for each ammo type. However, throughout Hunt's development, we have been able to refine the gunplay mechanics further. Instead of having them tied directly to the bullet, each weapon now determines the max bullet velocity, close to real-world specs. This allowed us to give each weapon a more distinct character and provide more differences between similar weapons for players to consider when making their loadout selections.
So, there is only one thing left to do after all that – get in the Bayou and DeSalle and shoot stuff! As always, your input is very important to us, so we look forward to hearing all your feedback.
Happy Hunting!
Your Hunt: Showdown Community Team
+++
Don't own Hunt yet? Get your copy for PC on Steam or from the Crytek shop. For Xbox, head to the Microsoft Store, and for PS4, find Hunt on the PlayStation Store.
Got queries or questions? Stop by our social media channels and let us know:
Discord + XboxClub + Facebook + Twitter + Instagram + Xbox + Steam +TikTok
---