Watch Hunt on Twitch. Earn Event Points.
Connect your Twitch account to get started.
Login with Twitch
* In order to participate in this campaign, you give your consent that we will process certain personal data only to provide you rewards for watching Hint:Showdown. You can find out more information (e.g. unsubscribing, data categories) in our Privacy Policy.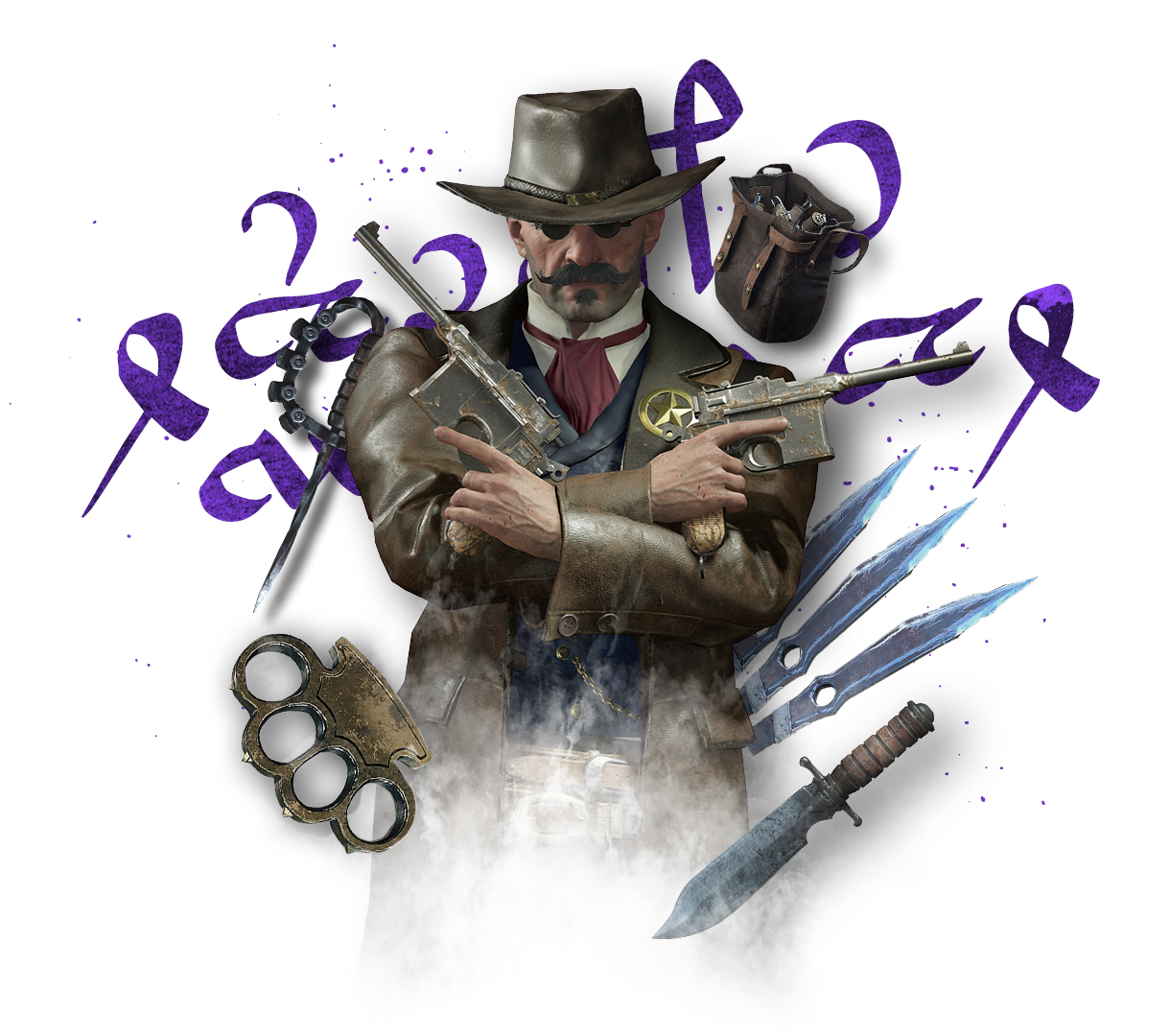 F.A.Q.s

How does the event work?

Event Points can be used to help you speed up your progression, and speeding up your progression means getting to those sweet event rewards even faster.



Earn Event Points by:
Destroying gift boxes scattered around the world
Destroying gift boxes beneath the Christmas trees
Defeating a boss, then destroying the gift box the boss drops alongside the Bounty
Investigating an event-themed Clue or Rift
Watching Hunt: Showdown Twitch streams--you'll earn 10 points for every 30 minutes you watch.




Daily Event Point Caps

There is daily cap on the amount of Event Points you can earn each day. But once you hit the Event Point cap for the day, you can still play the event, but instead of receiving Event Points, you will be rewarded with Hunter XP for the rest of that day.

On the first day, you will cap out at 200 points. Once you hit the cap for that day, you can still play the event, but you won't rack up any more Event Points in-game (there is an exception for earning them via Twitch stream, which we'll explain in a minute). On the second day, your point total caps out at 400. On the third day of the event your points cap out at 600. On the fourth day of the event, your points cap out at 1000. After that there is no further daily cap - so lock yourself in for a full two weeks of Hunt-style holiday cheer! Once you've capped out, you can still receive 10,000 more points, and as a bonus we will convert them into Hunt Dollars at the end of the event.



Twitch Drop Points

As we explained above, Hunt's winter event has a daily cap on the amount of Event Points you can earn each day. But because this time around we've added a way for you to earn points by watching participating Hunt streams on Twitch, we're making a bit of an exception to how the cap works

So let's take day one of the event as an example. On day one of the event, you can earn up to 200 Event Points. If your in-game Event Points plus your Twitch-earned Event Points add up to more than 200, those extra Event Points will be saved and added to your Event Point total the following day.



Break down:
You earn 150 Event Points in game.
You earn 100 Event Points watching Hunt streams on Twitch.
The daily cap for that day is 200 Event Points.


=You will receive 200 Event Points for the day, and the leftover 50 points you earned via Twitch will be added to your Event Point total the next day.

But remember: this only works when the extra Event Points were earned via Twitch. You can do this on multiple days, and your Twitch Event Points will continue to carry over. You can earn up to 100 Event Points per day via Twitch Drop, and a total of up to 300 Event Points total via Twitch Drop during the event.

What are Twitch Drops?

Twitch Drops are rewards you can earn while watching participating Twitch livestreams. During the Blood & Ice winter event, the rewards on offer are Event Points. You can earn Event Points via Twitch Drops by watching participating Hunt: Showdown streams on Twitch. You can find a full list of participating Streams above.

When can I start earning Event Points via Twitch Drops?

You can earn Event Points via Twitch Drops throughout The Hunt: Showdown Blood & Ice winter event, which runs from December 16 until December 30, 2020 for PC and Console players.

What rewards can I earn?

Event Points help you speed up your progression during the Blood & Ice winter event, allowing you to unlock rewards faster. Rewards on offer during the event include a new Legendary Hunter, a winter-themed First Aid Kit, and three gruesome new weapons.

What do I need to do to earn rewards?

If you use the button above to link your account with Twitch, you're good to go! All you have to do is watch participating Hunt: Showdown streams. The more you watch, the more Event Points you can earn. We will also announce eligible streams on our Hunt: Showdown social media channels. Twitch will send you a notification once you have earned Event Points, and they will be delivered automatically to your in-game account. (You will see them added to your progression when you restart the game if you have it open while you are watching streams.) Please note that there will be no additional notification from the game about Event Points earned via Twitch Drops. They will simply show on your in-game account.

Do I always need to be logged in to the game?

You need to be logged in to the Twitch account you registered for Hunt Twitch Drops while watching. If you're not logged in, you won't get the credit for watching, and you won't receive your Event Points. You do not need to have the game open while watching.

Some browser plugins can block Twitch from recording your presence during a stream. Temporarily disable these plugins to make sure you're eligible for Event Points. Twitch and Crytek cannot provide support for issues caused by incompatible browser plugins.

What can I do if linking my Twitch account fails?

The most common reason connecting your accounts fails is that one or more of the accounts you are trying to connect are already linked. You can check your current Twitch connections by logging into your Twitch account, selecting "Settings" and then choosing the "Connections" tab. Here you can view your Twitch connections and connect or disconnect accounts as you wish. If a connection does not seem to exist, but you still receive an error, make sure that you check any older or alternative Twitch accounts. On consoles, the steps to disconnect may be different. If you encounter other errors with account linking or issues relating to Twitch Drops, you can contact customer support here.
Note: Crytek customer support is not able to add, remove, or otherwise alter any link between your Twitch account and any other service, nor see the current status of any account connections. While we will provide direction to assist you with linking issues, no direct action is possible.

What is the difference between logging out and unsubscribing?

Unsubscribing will unlink your game account, causing you to lose your event progression, while logging out simply logs you out of the Hunt web page.
Link your Game Account
You can only link one account to your Twitch account. Choose wisely.