Hunters, we're delighted to let you know that we are launching a brand-new Twitch Drops event that runs from Wednesday, October 12 until October 20! There is a HUGE range of rewards up for grabs, including a brand-new Legendary Hunter "The Infected". Billy Story also makes a comeback as a reward for playing through various challenges in the Twitch Drop exclusive Questlines!
Twitch Drops are in-game rewards that you can earn simply by watching streamers playing Hunt during this weeklong event. To collect Drops rewards, you must connect your Twitch account to your game account and start watching your favorite Hunt: Showdown streamers throughout the week. If you want to stream as part of the event, ensure Drops are enabled on your channel and connect your account via your creator dashboard.
To find out how to connect your accounts as a viewer or streamer, and for all the in-depth detail you need about this Drops events, check out our FAQ. But for now, check out some of the rewards you can bag and learn more about the new Questline system!
You can earn most of the Twitch Drops rewards by watching all Hunt streams on Twitch, however if you want to obtain the eloquent Bloodshot Crossbow then you'll need to watch a stream from our exclusive Night of the Hunter partners.
What are Questlines and how do you unlock them?
For the first time ever, a new gameplay feature is being rolled out through Twitch Drops! Introducing Questlines: a new way to unlock exclusive and rare rewards by competing a series of specific in-game challenges.
Our first Questline "Billy & The Stalker Beetle" is launching as part of this Twitch Drops event. Watch qualifying streams for 60 minutes to receive a Questline Token that grants you access to the Billy & The Stalker Beetle Questline. This Questline is exclusive to the Twitch Drops event. If you haven't participated in a Twitch Drops event yet, there has never been a better to get in on the action!
Once you have unlocked the Questline, you will be presented with six Acts. Each act grants a special reward upon completion:
Act 1:
Legendary Springfield 1866 "Old Tusk"
Act 2:
Reward #1 - Legendary Nagant

M

1895

S

ilencer

"S

pare

Di

me

"




Reward #2

–

Legendary

Knife "Roe Stalker"
Act 3:
Reward #1 - Legendary Martini-Henry IC1 Riposte "Bingham Brash"




Reward #2

–

Legendary Quad Derringer

"Storied Past"
Act 4:
Reward #1 - Legendary

B

ornheim

N

o.3

E

xtended

"Solzer's Silver"



Reward #2 – Legendary First Aid kit "Huff's Kit"
Act 5:
Legendary Hunter "Billy Story"
Act 6:
Hunt's first ever Weapon Charm, "Tail Eater"
Keep in mind that these rewards are exclusive to this Questline so make sure not to miss this Twitch Drops event!
Billy Story Returns as a Questline reward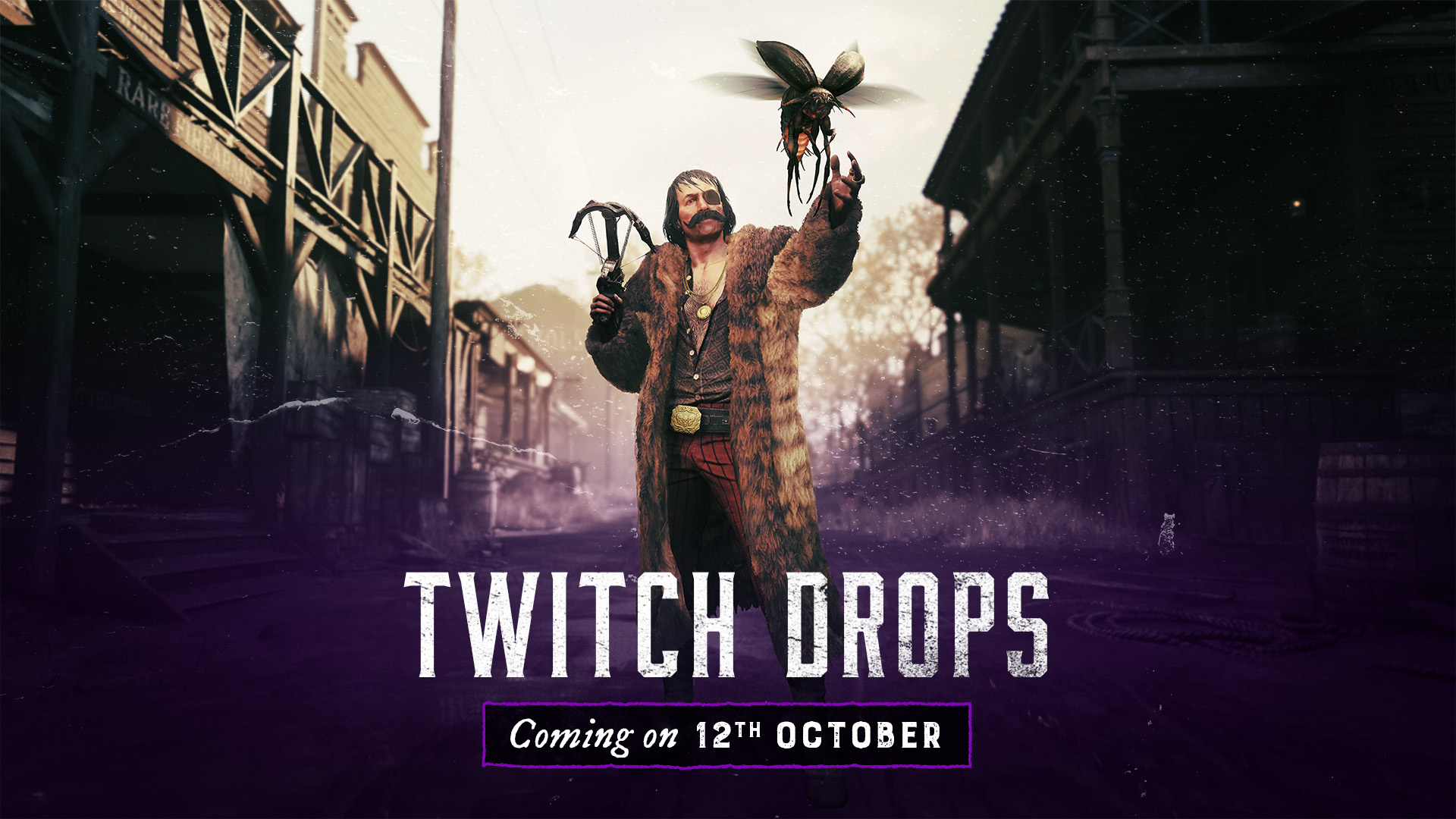 Back by popular demand, the rare Billy Story who players could only obtain in the 2020 Twitch Drops campaign is now available to unlock…. "Few who encountered this New Orleans "gentleman" would ever forget him – be it for his strange and extravagant dress, his raucous sense of humor, or the content of his infamous Blue Books."



Twitch Drops Rewards
Different rewards are available on different days, with a minimum watch time needed on Hunt: Showdown Drops-enabled streams for each reward.

Introducing The Infected: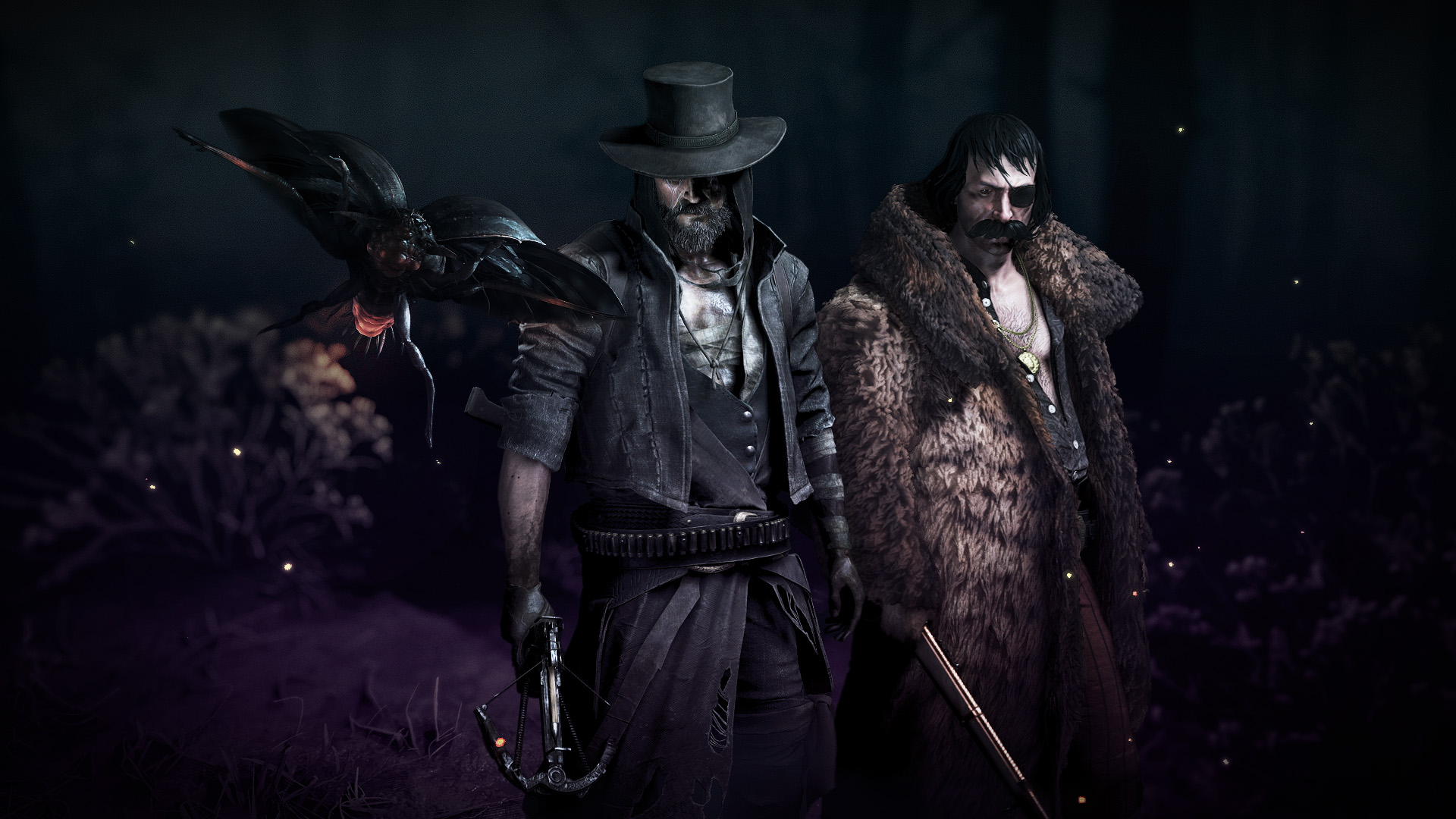 "Most exposed to the Bayou's corruption turn mercifully quickly, while an unlucky few live to witness their own slow demise. Some succumb to insanity and festering sores, while others – one such Bennett Hudson – suffer a necrosis that spreads like gangrene and offers no comfort in death."
The eloquent "Bloodshot" Hand Crossbow is a drop available exclusively through our Hunt: Showdown Partners, so check out our list and subscribe to their channels, so you don't miss out. Not only is it a beautiful weapon, it's also one of the prerequisites for unlocking The Infected.

Drop Schedule:
· 12th-20th – Watch streams for 60 minutes to unlock Questline Token

· 12th – 20th – Watch one of our Night of The Hunter Partners for 90 minutes to unlock "Bloodshot," a Hand Crossbow

· 13th-20th – Watch streams for 90 minutes to unlock "Malady," a Poison Bomb consumable

· 17th- 20th – Watch for 180 minutes to acquire "The Infected," a brand new Hunter*

*To earn this reward, you must have already unlocked "Bloodshot."
Don't forget that participation in this Drops event is open to everyone, so be sure to connect your account via the drops page in the creator dashboard.
Whether you're watching or streaming, we hope you enjoy this latest Twitch Drops event. Go get those rewards, and we look forward to hearing your feedback about our new Questline system too! Can you complete every Act and get every reward?

See you in the Bayou,
- Your Hunt: Showdown Community Team
+++
Don't own Hunt yet? Get your copy for PC on Steam or from the Crytek Shop. For Xbox, head to the Microsoft Store, and for PS4, find Hunt on the PlayStation Store.