Come, Hunter, stop and warm your hands at our hearth awhile. Let us lend you courage with gifts befitting the season! In contrast to that infamous storm of February past, New Orleans has yet to see snow this season. But to face the corruption that plagues the bayous is to feel the icy, tendrilled hand of death penetrate sense and soul. You know of what I speak.
However, Winter's bounty is plentiful for those who know where to find it - and what to do with it. You have fought long and hard throughout this long, dark time, dear Hunter, and as we turn the page of the year we hope we can begin a new chapter of success and glory for the American Hunter's Association. You have fought long and hard, and earned a spot of mischief and a cup of hearty cheer. May the season's delights warm your spirits, though if they do not, a little gold should do the trick.
Sincerely,
PHJ
The Hunt: Showdown winter event - Blood & Ice - starts today! That means that from now until December 30, 2020, you'll have the chance to earn Event Points that you can use to unlock exclusive winter-themed Legendary equipment.
How to Earn Event Points
Event Points can be used to help you speed up your progression, and speeding up your progression means getting to those sweet event rewards even faster.
Earn Event Points by:
-Destroying gift boxes scattered around the world
-Destroying gift boxes beneath the Christmas trees
-Defeating a boss, then destroying the gift box the boss drops alongside the Bounty
-Investigating an event-themed Clue or Rift
-Watching Hunt: Showdown Twitch streams
That's right - this time around, you can earn extra Event Points by watching participating Hunt: Showdown livestreams on Twitch-- you'll earn 10 points for every 30 minutes you watch.
To start earning those extra Twitch Drop Event Points, you'll need to link up your Twitch account, which you can do right here. Once your account is linked, all you need to do is watch participating Hunt: Showdown live streams (find a list of participating streamers here.), and you'll already start racking up points. You can earn up to 100 Event Points per day via Twitch Drop, and a total of up to 300 Event Points total via Twitch Drop during the event.
Daily Event Point Caps
There is daily cap on the amount of Event Points you can earn each day. But - pay attention this part is new – once you hit the Event Point cap for the day, you can still play the event, but instead of receiving Event Points, you will be rewarded with Hunter XP for the rest of that day
On the first day, you will cap out at 200 points. Once you hit the cap for that day, you can still play the event, but you won't rack up any more Event Points in-game (there is an exception for earning them via Twitch stream, which we'll explain in a minute). On the second day, your point total caps out at 400. On the third day of the event your points cap out at 600. On the fourth day of the event, your points cap out at 1000. After that there is no further daily cap - so lock yourself in for a full two weeks of Hunt-style holiday cheer! Once you've capped out, you can still receive 10,000 more points, and as a bonus we will convert them into Hunt Dollars at the end of the event.
When you reach one of these caps and switch over to earning Hunter XP, this is how much you can expect to earn:
-Destroy 1 gift box, earn 50 Hunter XP
-Destroy gift boxes under a Christmas tree, earn up to 150 Hunter XP (I.e., 3 gift boxes x 50 XP per box)
-Destroy the gift box dropped by the boss, earn up to 250 Hunter XP (I.e. 5 gift boxes dropped by the boss x 50 XP per box)
-Investigate themed clue, earn 200 Hunter XP
Twitch Drop Points
As we explained above, Hunt's winter event has a daily cap on the amount of Event Points you can earn each day. But because this time around we've added a way for you to earn points by watching participating Hunt streams on Twitch, we're making a bit of an exception to how the cap works.
So let's take day one of the event as an example. On day one of the event, you can earn up to 200 Event Points. If your in-game Event Points plus your Twitch-earned Event Points add up to more than 200, those extra Event Points will be saved and added to your Event Point total the following day.
Break down:
-You earn 150 Event Points in game.
-You earn 100 Event Points watching Hunt streams on Twitch.
-The daily cap for that day is 200 Event Points.
=You will receive 200 Event Points for the day, and the leftover 50 points you earned via Twitch will be added to your Event Point total the next day.
But remember: this only works when the extra Event Points were earned via Twitch. You can do this on multiple days, and your Twitch Event Points will continue to carry over.
Event Gear
If you login to Hunt at least once during the event, we have a special holiday gift for you! Everyone who logs on during Blood & Ice will receive Cold Snap, our new Legendary First Aid Kit.
The First Aid Kit is part of a bunch of new winter-themed gear we created exclusively for this event. To earn it all, you'll need 1000 Event Points. Here's what's waiting for you: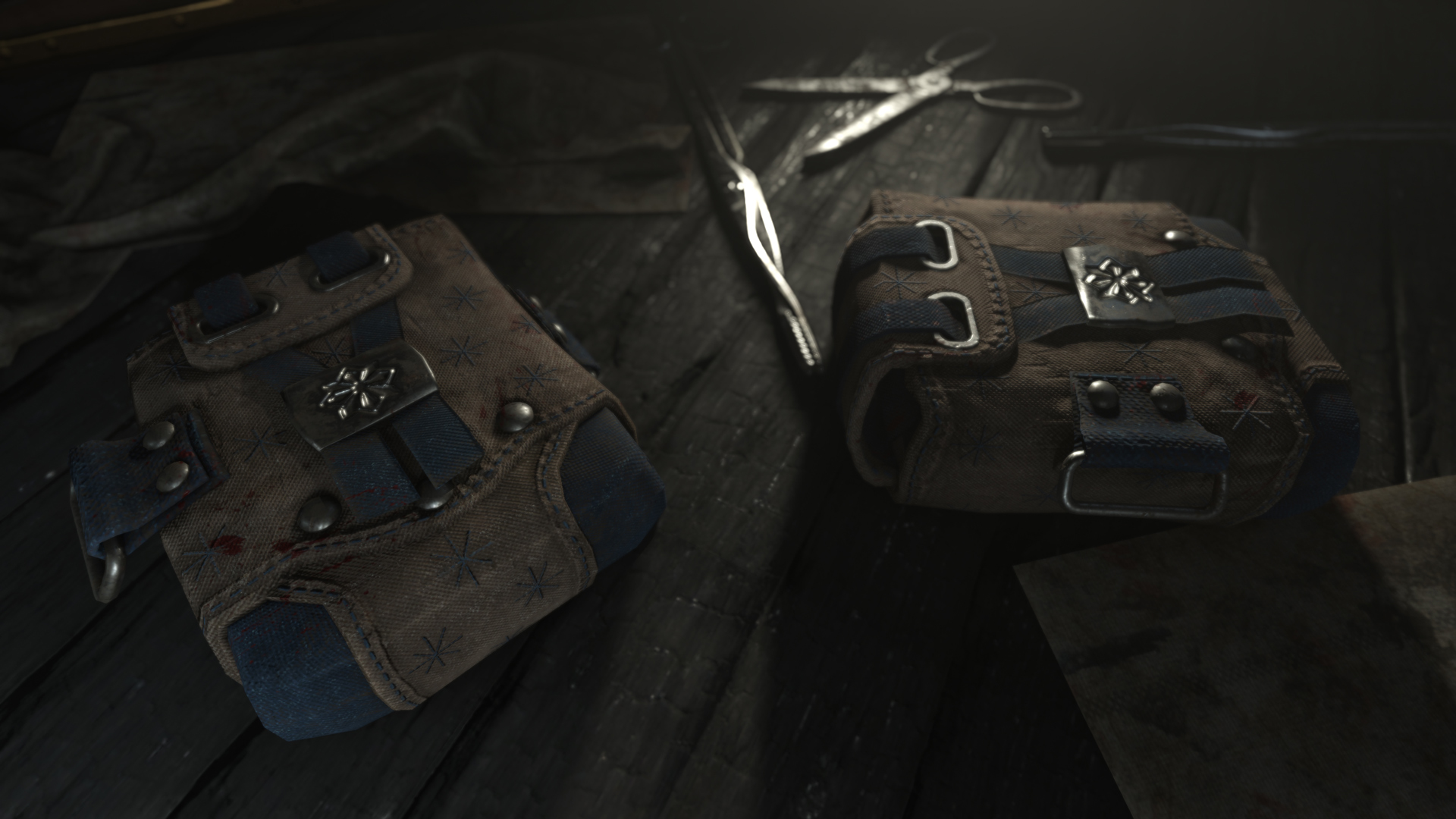 Cold Snap
This First Aid Kit is designed to bind wounds in cooler climates. Clasped with a snowflake-stamped buckle, this is sure to ward off death's icy hand - for a while.
Hailstorm
Though rage burned hot within the Siberian sniper who first bore this elite Mosin, each shot taken was as coldly calculated as the frost that trimmed the dark line of pines from which it easily picked off grunts with precision, one by bloody one.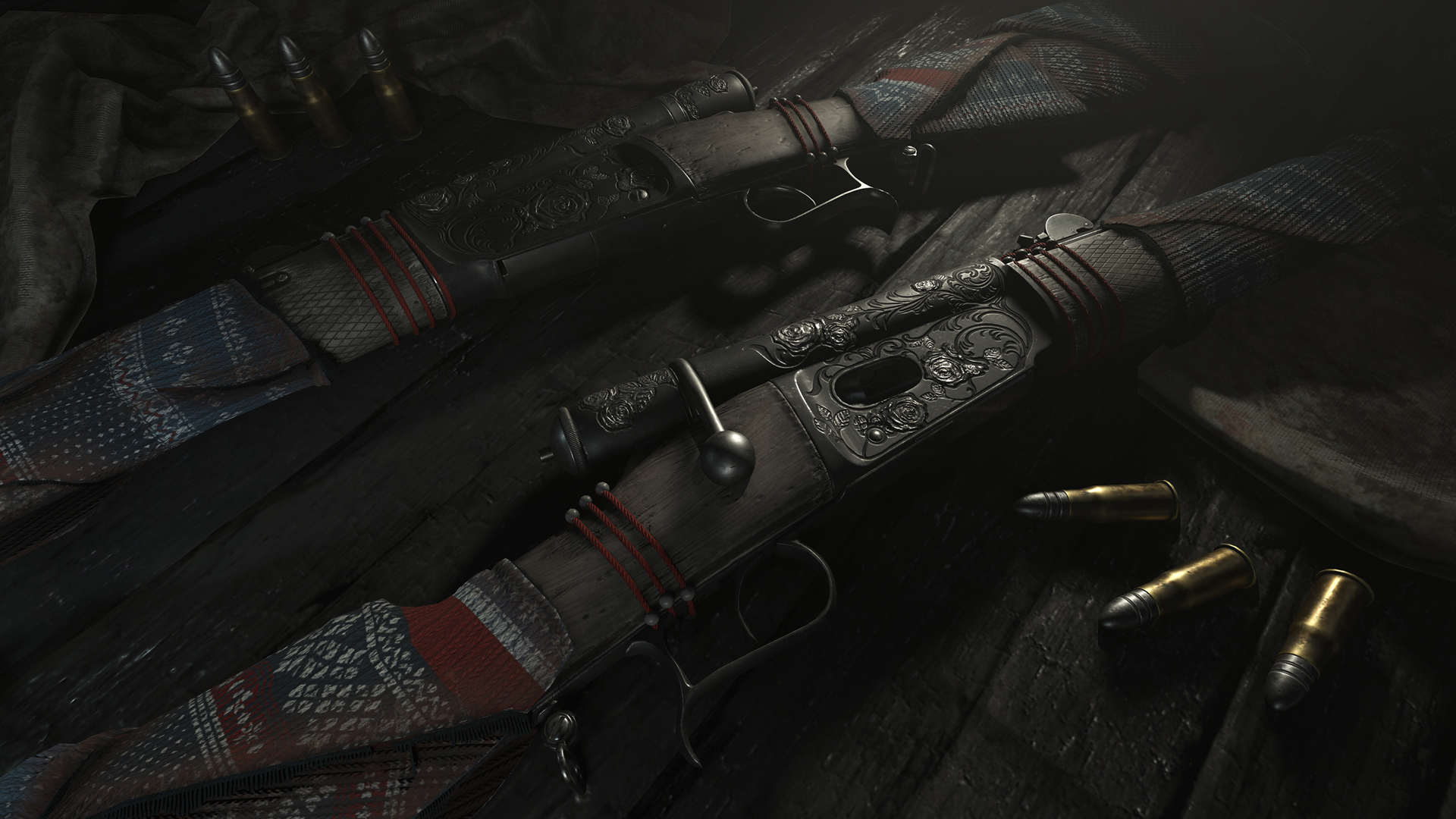 Winter Rose
A white rose blooming in winter was once thought to be an omen of death. In the case of this rose-engraved Vetterli, that omen rings true with every shot, though the sight of its metallic bloom would be an omen of impending death in any season.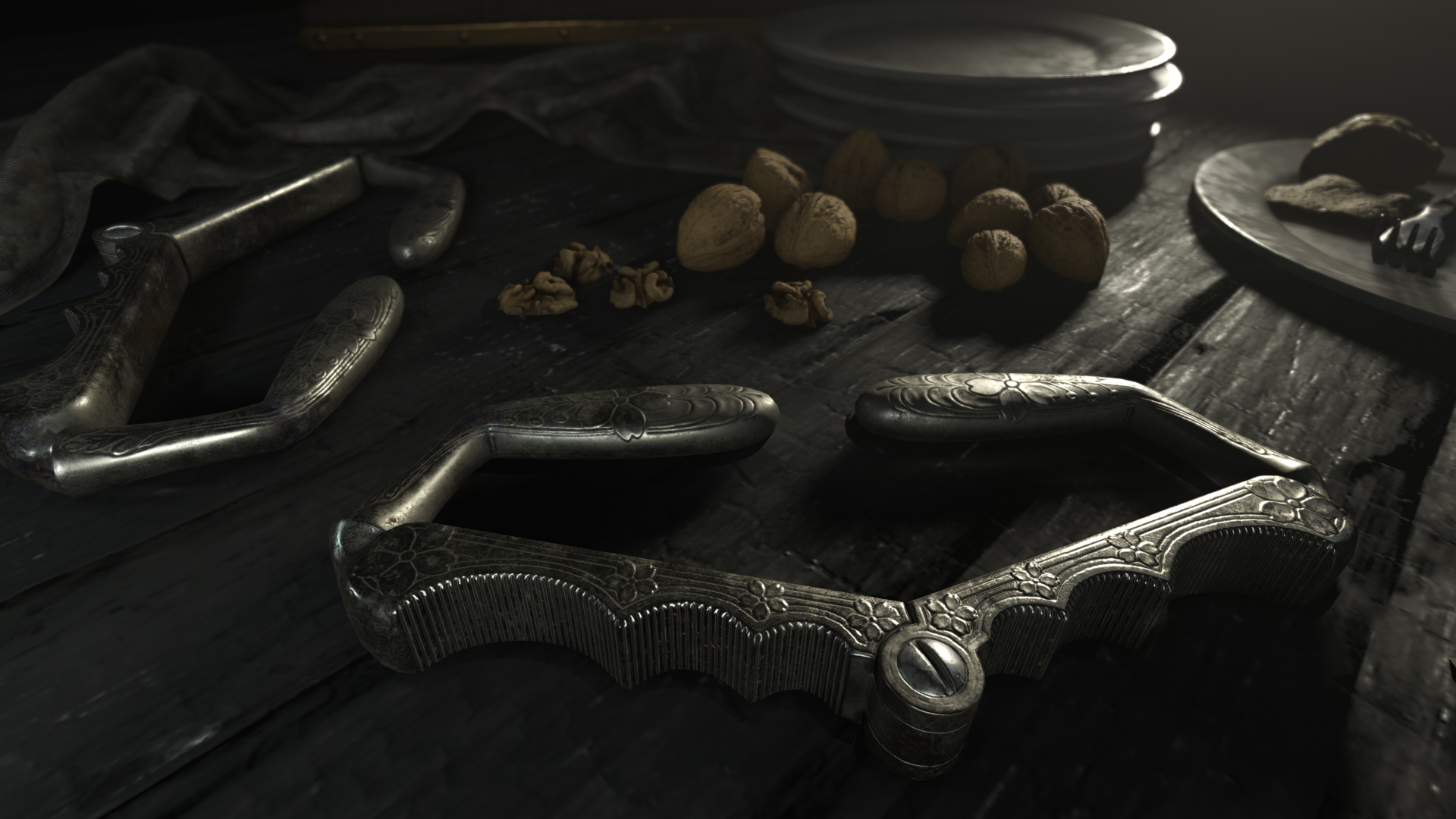 Nutcracker
These ornate Dusters were fashioned from what was once a fine table ornament - and now they can crack a lot more than just walnuts.
And a New Legendary Hunter!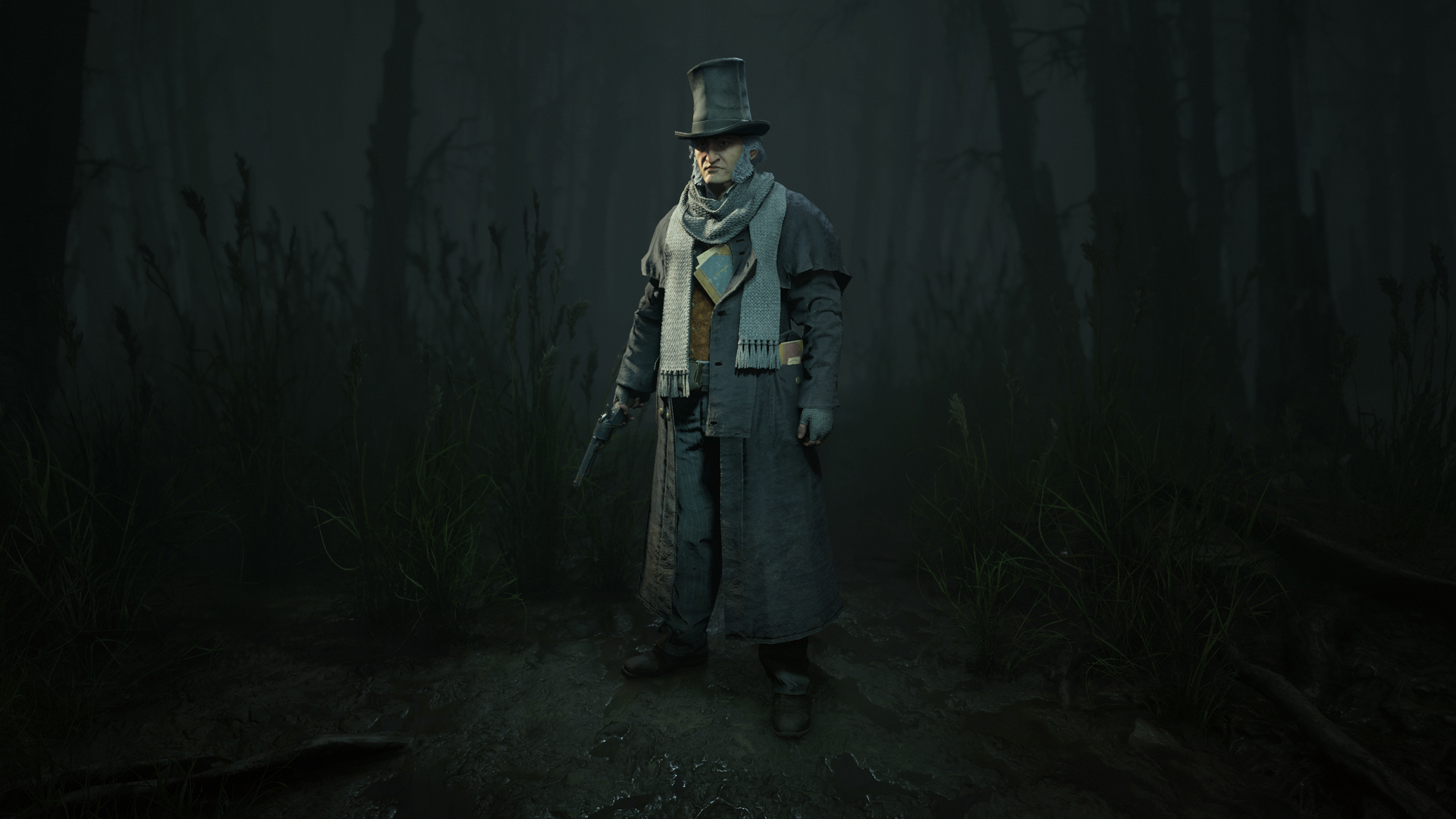 The Skinflint
One dreary winter's night Timothy Stone bore witness to three strange apparitions, each bearing portents of his past, present, and future. Whether real or an invention of his warped mind, the experience convinced Stone to pledge his life to the AHA, where he would become known for being slow to his wallet but quick to his rifle. Ever the accountant, his ledger now contains a reckoning of the souls he has removed from this Earth.
***
So, now you know what to expect, and how it will all work. We hope to see you in the bayous, smashing some presents, or over on Twitch watching a few Hunt streams. :-) If you have questions, stop by our social media channels and let us know:
Discord + XboxClub + Facebook + Twitter + Instagram + Xbox + Steam
Don't own a copy of Hunt yet? Get one now!
Get a copy for PC on Steam or in the Crytek store, for Xbox in the Microsoft Store, and for PS4 in the PlayStation Store.