The Moon, in all her glory, was never meant to be a victim. She was all powerful and worshiped by many, and in return she imbued her flock and the earth with her mighty light. She was cleansing for some and a trigger for others but overall, she was beloved. But that cursed thing showed up, and with it that cursed man. They used her; they took and took and took until she was only a shadow of her true self. She had called to many for aide, pulling them in from the reflections of rivers and even by the pond and the willow, but none of them stuck.
"Until Kevin, the sweet boy, heard her pleas and joined her side. Now she watches, and waits, and hopes for an end to Mr. Orwell Chary. So that she can return to her former position and imbue the world once more.
"But that's not going to happen, is it Hunter? The rewards are too good, and there's work to be done. A full moon rises over the bayou once more, and with it more tasks to be done. Join Mr. Chary under the Serpent Moon and earn rewards to better the Hunt. "
Hunters, our biggest live event ever, "Serpent Moon," begins today featuring new gameplay, more story, a brand new evolving Legendary Hunter, "Viper," and much more! For 60 days, we have more rewards on offer than ever before, and a new "Serpent Moon" bundle with two new DLC including new Legendary Hunters and weapons.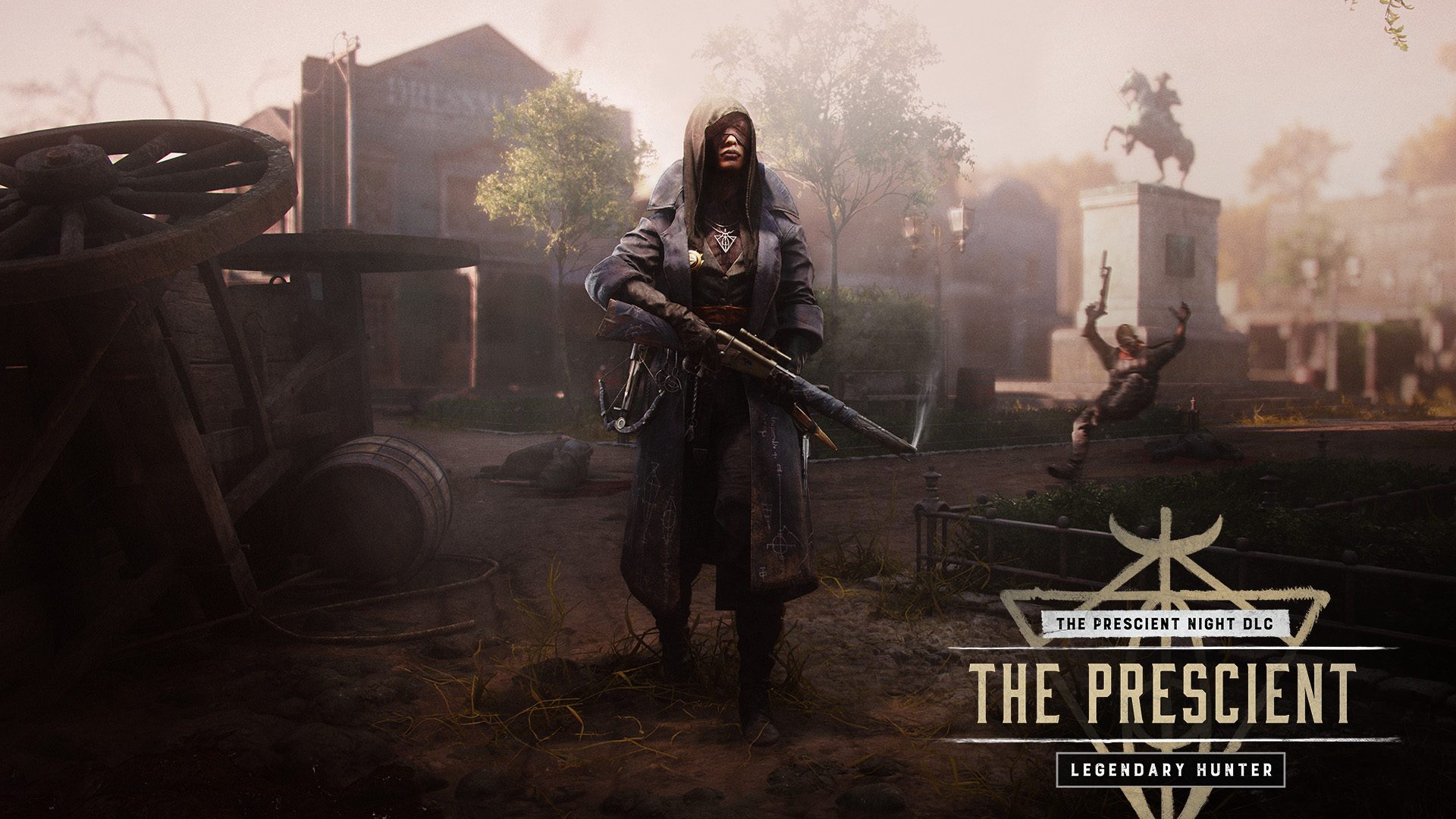 The Serpent Moon Live Event brings a supernatural infestation of snakes to the bayou. Deadly serpents appear in snake dens throughout the bayou, and it's down to you to capture snakes and sacrifice them on altars. However, these snakes will attack you if you make too much noise on your approach, so you must balance the reward of greater event points, and greater rewards, for looting and sacrificing snakes against a lower amount of event points for simply destroying them.
To help you, you can equip three Event Traits. "Beastface" reduces the reaction range of snakes allowing you to get closer. "Serpent" increases the distance at which snake sacrifices can be made, and "Poison Sense" will identify nearby poisoned players when using Dark Sight. You will also be rewarded for investigating event clues and rifts, eliminating bosses and looting Hunter corpses.


Introducing Viper
"The Viper grew up the middle child of a pair of merchants. The chaos and confusion of the markets often overwhelmed them, which caused wordless tantrums in the middle of their parents' work. It wasn't until The Viper met Delara, a snake born to the Steppes, that they were able to remain calm and begin to speak their first words at seven. It was their play with Delara in the market that eventually drew their mentor to them. It only took a bit of convincing and coin for the child and snake to be taken away from their family and led to the dying Order of Assassins.
"The Viper was trained to trust three things: Their mentor, their snake Delara, and their ability to kill. Soon enough there was no oasis or refuge from their poison and blades, and despite vowing that they would never speak a word unless absolutely necessary, their actions spoke loud enough.
"It was this indiscriminate terror that cast its shadow over the Middle East, only answering to The Sinners who delivered their targets and money. They felt nothing even when their mentor passed, and they had to kill the innocent: Until they realized Delara was dying.
"The two had grown together, learned to kill together, and learned to survive. But a Steppe Viper only lives twenty years and with the dangers they faced together they had shortened her life span. The overwhelming panic that the Viper felt in the markets of their childhood bubbled up at the thought of being without her, and even as Delara gently coiled around their neck they didn't feel reassured.
"And then the call came from far off for a job. From a man named Mr. Chary who just needed to get rid of a young man. In return, the man would give the Viper the secret to extending Delara's life. Too tempted by the call, the Viper got on the first boat they could to New Orleans."
Everyone who join the "Serpent Moon" event will be able to play with our new Legendary Hunter, "Viper." In a first for Hunt, this unique character will visually evolve through different stages as players progress. The number of stages Viper will evolve through depends on your chosen pathway. A new battle pass system – "The Gilded Path" – will enable you to choose from free, standard, and premium pathways.
The free option offers two stages of Viper's progression, plus the opportunity to earn weapons and Blood Bonds during the event. The standard Gilded Path battle pass provides everything in the free tier, four stages of Viper's evolution to experience, more weapons and rewards to unlock, and Blood Bond cashback. The premium Gilded Path tier offers everything from the standard Gilded Path option plus 3000 Event points to speed up progress. Whichever pathway you choose, you can access two new weapons: the Romero 77 Alamo "Coluber" shotgun and the "Snakeshot" Sparks Pistol!
Everyone can earn up to 11 rewards during the 60 days of the "Serpent Moon." Boosters, Blood Bonds, and weapons are up for grabs, including the "Antosha" Caldwell Conversion Chain Pistol and the "Lucidus" Vetterli 71 Karabiner Silencer. Players who choose to play with the standard and premium Gilded Path battle pass will be able to unlock a further 17 rewards, including the new "Snake Oil Ward" antidote shot and the Winfield M1873 Swift rifle "Slither."
Check out all the rewards on offer for the free pathway and the Gilded Path:
Free

Gilded Path

EPs

Total EPs

Legendary Hunter Stage 1

Chary's Implied Contract - 2 Hours Booster

Antidote shot - Snake Oil Ward

400

400

x3 Romero 77 Alamo Coluber Instance

500

900

x1 Alert Trip Mine - Miner's Song Instance

Berthier Mle 92 - Earthshine

600

1500

x3 Sparks Pistol Snakeshot Instance

700

2200

Romero 77 Alamo Unlock

Romero 77 Alamo - Coluber

800

3000

Chary's Fixed Contract - 24 Hours Booster

900

3900

Legendary Hunter Stage 2

50 BBs

1000

4900

x5 Dynamite Stick Bundle - Red Dog Instance

1100

6000

Sparks Pistol Unlock

Sparks Pistol - Snakeshot

1200

7200

50 BBs

1300

8500

Caldwell Conversion Chain Pistol - Antosha

x3 Vetterli 71 Karabiner Silencer - Lucidus Instance

1400

9900

100 BBs

1500

11400

Chary's Implied Contract - 2 Hours Booster

Legendary Hunter Stage 3

1600

13000

x7 Antidote shot - Snake Oil Ward Instance

1700

14700

100 BBs

1800

16500

50 BBs

Winfield M1873 Swift - Slither

1900

18400

Dynamite Stick Bundle - Red Dog

200 BBs

2000

20400

100 BBs

500 BBs

2100

22500

Vetterli 71 Karabiner Silencer - Lucidus

Legendary Hunter Stage 4

2200

24700
Once you have collected all rewards, you will unlock Infinite Stage. At this point you will only accumulate more Event Points for our new leaderboard…
Serpent Moon Event Leaderboard
Yes, for the first time we're rolling out a Leaderboard which will give you a live ranking and offer rewards for the position you finish the event in. Here's what's on offer:


| | | |
| --- | --- | --- |
| | Place | Reward |
| 1 | Top 1% | 4000 Hunt Dollars + 200 Blood Bonds |
| 2 | Top 10% | 3000 Hunt Dollars + 100 Blood Bonds |
| 3 | Top 25% | 2000 Hunt Dollars + 100 Blood Bonds |
| 4 | Top 50% | 1000 Hunt Dollars |
| 5 | Top 75% | 500 Hunt Dollars |
It's not just rewards you'll be unlocking during the Serpent Moon event. There's a whole new storyline too, and after the events unfold in the bayou, you'll also be able to follow along in audiobooks released on our social media channels and on streaming platforms for a new way to experience the event lore..

Event DLC
Launching alongside the Serpent Moon Live Event is a 'Serpent Moon' bundle which includes "They Came From Salem" and the brand new DLC "The Prescient Night" featuring new Legendary Hunters that benefit from an Event Point boost – plus new Legendary Weapons.
The Prescient Night DLC
This DLC contains one Legendary Hunter and three Legendary weapons: The Prescient (Hunter), The Forewarning (Vetterli 71 Karabiner Deadeye), Moon Bleached (Hand Crossbow), and The Blindside (Scottfield Model 3 Spitfire).
The Prescient
Never blind to life's injustices, Ira Ozols trod a dark path towards powers that would let her glimpse what was to come. To make judgements based on the past, and the future. On realizing her goal, she lost sight of the present, but became renowned for her prescience.
The Forewarning
Wrapped in the remnants of a once white robe, marked with symbols of truesight, this Vetterli 71 Karabiner Deadeye will find its target in the dark, despite earthly expectation.
Moon Bleached
The favored tool of one who prefers subterfuge and subtlety, this Hand Crossbow is a stalwart companion that, with the pluck of its string, does not disturb the dark.
The Blindside
Once belonging to Isaac Powell, this Scottfield Model 3 Spitfire was not the only thing stolen in the dead of the night. A staunch reminder to not be too trusting, and insurance if that lesson is forgotten.
They Came from Salem DLC
This DLC contains one Legendary Hunter, two Legendary weapons, and one Legendary tool: The Witch Hunter, Witch Trial (Berthier Mle 1892 Deadeye), Sister's Keeper (Nagant M1895 Officer), and Rooted Apothecary (First Aid Kit)
The Witch Hunter
Descended from a long line of witch hunters, Circe Elias was raised ready to fight the unknown. When word got to the New York branch of the AHA about Louisiana, Circe knew she needed to go put her lineage and training to work.
Witch Trial
The Elias family made their money hunting witches in Massachusetts. This Berthier Mle 1892 is said to be modified with remnants of the witches they could not burn.
Sister's Keeper
The night Circe left her family, she firmly placed this unfailing Nagant M1895 Officer in her little sister's hand and told her to use it if she had to. When Circe came back to get her, it was still clutched in her cold, lifeless fingers.
Rooted Apothecary
Expertly crafted by the medicine women of Louisiana, this First Aid Kit is said to be the best of both ancient and modern medicine.
Event Store
You can also pick up "Miner's Song" a new Alert Trip Mine – from the Event store, or pick up the Event Bundle which includes 3000 Event Points, Miner's Song, and 3 Day Mr Chary's Contract at a 20% discount.
Event Boosters
There are plenty of ways to boost your progress during the event.
If you have a Chary's Contract active, you can earn a 50% Event Point booster plus an extra 20 meters Dark Sight boost.
Play with a Hunter who has Chary's Event Trait active – an event-only trait- and you will receive a further 10% Event Point booster, and your Dark Sight will increase by 3 meters.
Four Legendary Hunters can boost your progress. They are:
• Hail Mary
• The Night Seer
• The Witch Hunter
• The Prescient
Hunter boosters are stackable with other boosters including Mr Chary's Contracts and Event Traits.
Can you unlock all of the new story? And will you complete a clean sweep of all the rewards on offer? Dive into the Serpent Moon live event and find out…
See you in the bayou,
- Your Hunt: Showdown Community Team
+++
Don't own Hunt yet? Get your copy for PC on Steam or from the Crytek Shop. For Xbox, head to the Microsoft Store , and for PS4, find Hunt on the PlayStation Store.
Discord + XboxClub + Facebook + Twitter + Instagram + Xbox + Steam