I miss you. I close my eyes and see you sweetly. I see a skull painted on the wings of a moth. I see an alligator eat that moth. I see a boat eat the alligator. I see a thousand fires eat the boat. I see the night eat the fires. And then I see a sculpture. I rip the tongue out of it. I rip the tongue out of everything.
Hunters, our latest Live Event, Tide of Corruption, is out now! The compelling story continues right where Tide of Shadows left off, and you'll also have the chance to pledge your allegiance to new Pacts, use new Traits, and welcome the newest Wildcard Condition, the Dark Inferno! And of course, no Hunt: Showdown Live Event is complete without an exciting variety of rewards for you to unlock—there are new weapons, two new Legendary Hunters, and a new Fire Beetle, depending on if you have purchased the Battle Pass or not. Free rewards are accessible for everyone while the premium rewards are only accessible for Battle Pass owners.
Tide of Corruption Live Event—New Pacts
The Tide of Corruption Live Event features new Pacts to pledge your allegiance to: The Demented Pact, The Death Pact, and The Infernal Pact. Each Pact gives you the opportunity to use a set of unique Traits which offer new and exciting ways to play. You can learn more about each of these new mysterious Pacts by unlocking story chapters as you play through Tide of Corruption, but here's a rundown of the Pact Traits and what each Pact stands for:
The Demented Pact
"Mania and reverence. Delusion and salvation. The Demented Pact seek to dethrone the Targets and devour their unholiness. They will gore, sever, and rip apart the bayou's flesh to fulfill the Sculptor's will."
Pledge your allegiance to the Demented Pact to use the following Traits, which can be acquired by earning Pledge Marks:
Acolyte (1 Pledge Mark)
Acquire a random Trait and Hunt Dollars when you or a member of your team picks up a Clue.
Remedy (2 Pledge Marks)
Use Dark Sight and interact with a Trait to trigger a Restoration effect for your team's Hunters that is similar to the one that is triggered with a Banishing.
Ghoul (Conditional)
If you deal damage to a Target, then Ghoul will restore a small amount of health.
Death Pact
"The order of death is in disarray. Throats that were slit seal closed once more. The Death Pact are cursed with new life and disgusted by it. There are rumors of things returning from the Land of the Dead, and the Death Pact was forged to seek the truths hiding in the shallows."
Pledge your allegiance to the Death Pact to use the following Traits, which can be acquired by earning Pledge Marks:
Witness (1 Pledge Mark)
Dead Hunters and monsters are visible in Dark Sight, and health restoration is marginally increased when close.
Relentless (2 Pledge Marks)
Your Hunter won't lose a Health Chunk when downed.
Vulture (Conditional)
Looting a dead Hunter will restore one Health Chunk in exchange for 1 Pledge Mark.
Infernal Pact
"Flame spreads once more in the bayou. Its heat is cursed and brimming with the sins of every Hunter to ever hold a gun. The Infernal Pact rise up to fight against this fire with their own. They see opportunity in the chaos and exploit it to further Mr. Chary's machinations."
Pledge your allegiance to the Infernal Pact to use the following Traits, which can be acquired by earning Pledge Marks:
Blazeborne (1 Pledge Mark)
Health restoration is greatly increased while in flames, and you can't catch on fire.
Rampage (2 Pledge Marks)
Killing an enemy Hunter while at least one Health Chunk is empty triggers a Restoration for your Hunter.
Bloodless (Conditional)
Bleeding is stopped automatically because your wounds are cauterized.
Please note that Event Traits are only available during this Live Event. Once the Event is finished, they will be removed, so take advantage of these new ways to play while you can!
Pledge Marks
There are three sources of Pledge Marks, all of which can only be earned once per mission. Each time a Pledge Mark is gained, it will also be awarded to all team members.
Pledge Marks are tied to each Hunter and cannot be directly taken from other players. You can earn up to 3 Pledge Marks per mission and carry a maximum of four Pledge Marks total. You can earn them by:
• Reaching the Event Point (EP) Threshold—Gaining 20 EPs for the first time will earn you a Pledge Mark.
• Looting your first Hunter—Only the first Hunter looted will give a Pledge Mark. After this, you will earn EPs.
• Banishing your first Target—Only the first Banish will give a Pledge Mark. Banishing additional Targets will give EPs.
Wildcard Condition: Dark Inferno
Tide of Corruption includes a fun new take on the popular "Inferno" Wildcard Condition, previously seen during the Devil's Moon Live Event. This time, the raging flames will be featured in night map modes to become the Dark Inferno. When the Dark Inferno is active, certain parts of the map will be set on fire, and a change to your strategy in the bayou may be necessary. You might decide to adjust your routes to navigate around the fire, or you can choose to use it to conceal your position. The flames are dangerous, and it's up to you to decide how to turn the Dark Inferno to your advantage. Pledging one of your Hunters to The Infernal Pact, for example, will give you access to Traits that will help you when the Wildcard Condition is active.
Event Points and Rewards
To earn rewards for this Live Event, you'll need to rack up Event Points.
You can earn Event Points (EPs) by:
• Interacting with an Event Clue or Rift – 10 EPs
• Starting a Banish on a Boss Target or Wild Target - 12 EPs
• Extracting a Bounty Token - 30 EPs
• Interacting with a Defiled Altar - 6 EPs
• Destroying a Defiled Altar – 3 EPs
• Looting an enemy Hunter – 12 EPs
• Becoming the "Soul Survivor" - 30 EPs
• Challenges – EPs vary
• Dark Tribute – 150 EPs (1st milestone, daily)
Rewards
We have a huge range of exciting rewards that you can spend your Event Points on:
New Consumable: Fire Beetle.
All types of Beetles are bred to find and track prey, giving Hunters a view from above. The new Fire Beetle offers these same benefits but has evolved to explode into a ball of flames, damaging nearby Hunters and igniting flammable objects in its vicinity. It's a powerful tool with the potential to cause massive destruction. Get creative and unleash carnage with this new Consumable.
New Legendary Hunters
Introducing: Butcher's Cleaver
"Reginald Villemont dropped to all fours when hunting feral swine, sniffing scat, and divining runes and mysticisms from tracks. He flayed wild pig throats with his teeth as he delved deeper into the bayou, finding a source of salvation and obliteration alike: the Butcher."
Butcher's Cleaver is available to unlock with the Free Battle Pass.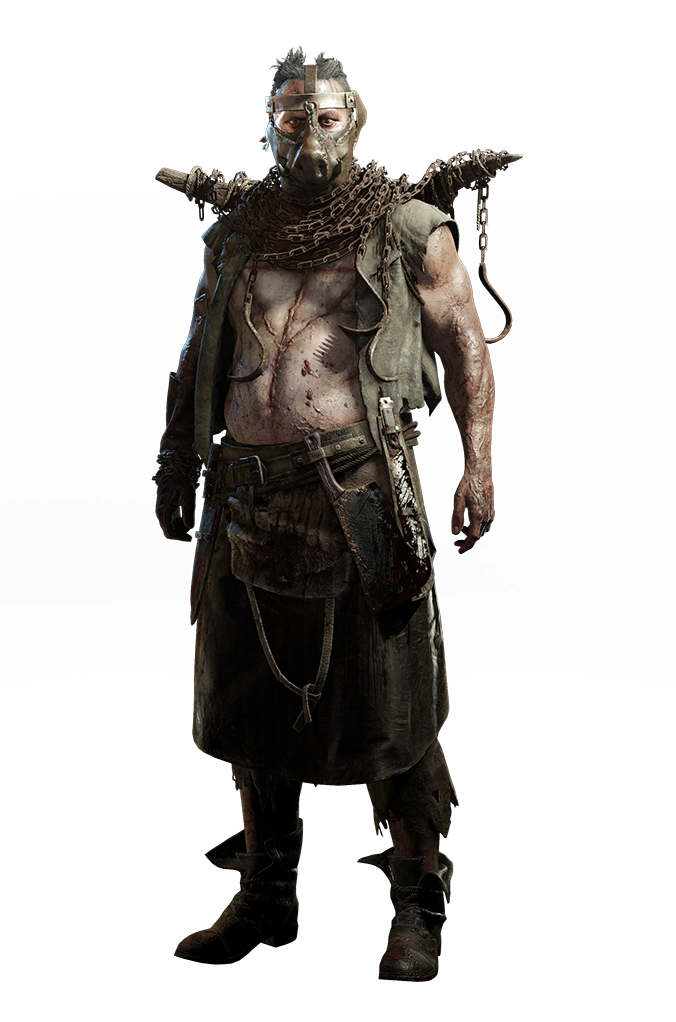 Introducing: Burnt Marshall
"A comet fell from the sky. The Great Peshtigo Fire raged in its wake, and a boy watched bodies burn in unnatural wildfire. He grew, learned flame's language—catalogued its desire for forests and flesh. Now he seeks the strange Inferno raging in the south."

Burnt Marshall can only be unlocked with the Premium Battle Pass.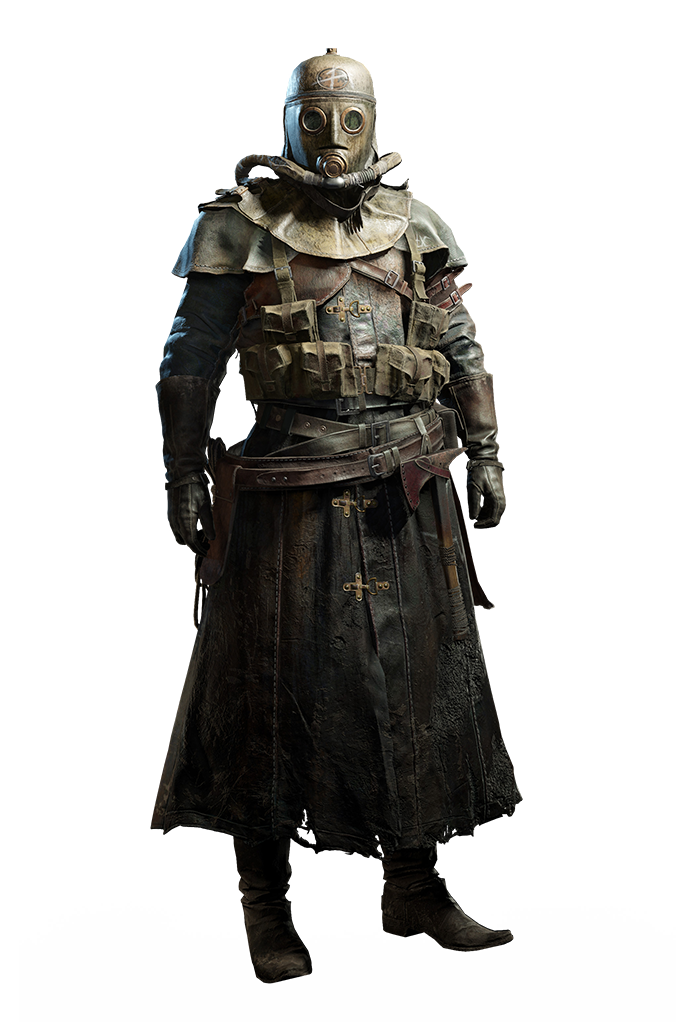 Additional Rewards:
While there is a terrific range of rewards available for free, premium rewards can only be earned if you choose to purchase the Battle Pass or the Battle Pass Bundle.
A few highlights from the Free Progression are listed below:
• Vetterli 71 Karabiner Cyclone
• Bornheim No. 3 Silencer
• Derringer Pennyshot
• Baseball Bat
Many more rewards are still waiting to be discovered...
How will you use the power of the new unique Traits each Pact has to offer? Can you navigate the Dark Inferno without getting burned? We can't wait to see how you take on these new challenges and ways to play during the newest Live Event, Tide of Corruption!
See you in the bayou,
- Your Hunt: Showdown Community Team
+++
Don't own Hunt yet? Get your copy for PC on Steam or from the Crytek Shop. For Xbox, head to the Microsoft Store , and for PS4, find Hunt on the PlayStation Store.
Discord + XboxClub + Facebook + Twitter + Instagram + Xbox + Steam