Our third-anniversary celebrations are in full swing, including giveaways, discounts, and a few surprises, on our social media channels. We've also rolled out some cool new Steam emotes, and there's something special lined up for you in the bayou towards the end of the month…
As part of our three years of Hunt celebrations, we hosted our latest Weapon Skin Contest, and now we need your votes! The contest saw some amazing entries, and we want to thank each and every one of you who entered. The deadline for entries passed on 11 March, and after much deliberation, your Hunt dev team has now selected a shortlist of 12 exceptional candidates. We need you to decide our winner and two runners-up, who will have their Weapon Skin designs worked up by the team and added to the game in a future update.
Voting will be decided in a two-round system.
Round one – Open for voting now!
The first round is a tournament-style knockout where we've randomly paired up entries. Visit this Google Sheets document to see the entries and cast your vote for the winner of each match-up. The most popular six will proceed to the second round. Voting is open for 24 hours and starts now!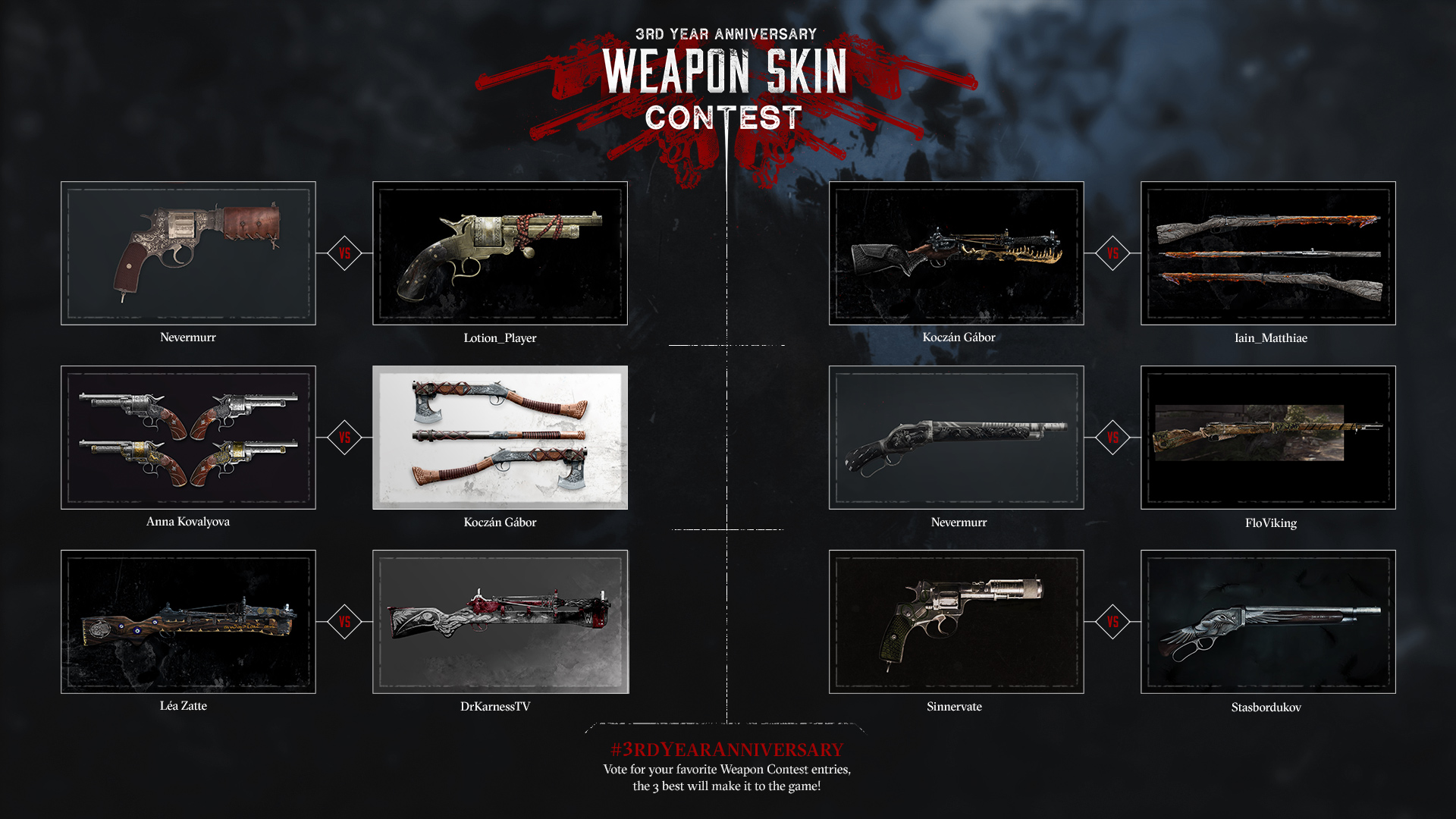 Round Two
Following the first round, we will hold an open vote for our six finalists. Your votes will decide the overall winner and two runners-up.
Winners will be announced on a live stream on our official Hunt Twitch channel this week!
To vote, you will need to be signed in to your Google account. You can only cast one vote per round, so the vote is fair.
There's plenty more at stake too!
The overall winner will receive:
- A voucher for an upcoming Three Year Anniversary Hunt: Showdown t-shirt
- 1500 Blood Bonds
- A voucher for two DLCs of their choice.
- Naming rights for the weapon skin (names subject to team approval)
Two runners-up will each receive:
-1000 Blood Bonds
-A voucher for two DLCs of their choice
-A Trait mug
-Naming rights for the weapon skin (names subject to team approval)
What are you waiting for? Get voting, and let's crown our community Weapon Skin Contest champion.
See you in the bayou,
- Your Hunt: Showdown Community Team
+++
Don't own Hunt yet? Get your copy for PC on Steam or from the Crytek Shop. For Xbox, head to the Microsoft Store. and for PS4, find Hunt on the PlayStation Store.
Discord + XboxClub + Facebook + Twitter + Instagram + Xbox + Steam